Virgin Pre-sintered – TG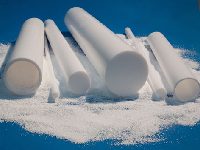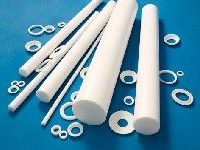 TU 2213-016-13693708-2004
(-CF2-CF2-)n
Analogs : Teflon 9B; Tarflen ST; Algoflon E2, E2BP; Fluon G201, G204; Dyneon 1105, 1502.
Fluoroplast-4 of «ТG» grade is a pre-sintered PTFE powder, subsequent milling.
At present time we produce two F-4TG grades with the following properties:
Property
F-4ТG
F-4ТG-2
Grade 1
Grade 2
Appearance
White granules with no visible inclusions
Bulk density, g/dm3
600-800
450-800
450-600
Average particles size, D50, µm
600-800
Not standardized
Not standardized
Flowability, sec, max
Not standardized
7
7
Flowability index, sec
12-16
Not standardized
Not standardized
Granulometric composition, %, max:

– fraction of more than 1 mm;

– fraction of less than 0,25 mm

Not standardized

Not standardized

50

40

50

40
This fluoroplast grade is used for processing by ram extrusion method for manufacturing rods and tubes of precise size.
Back to Polytetrafluoroethylene (PTFE)